Susan Mallery's Fool's Gold Cookbook: A Story Told Through 150 Recipes
Coming August 27, 2013
Well
Susan Mallery's Fool's Gold Cookbook is here. It came out today, August 27, 2013!! Whoo hoo!! I love this cookbook!! There are so many recipes I want to make. If you order or buy this cookbook before 8/31, you can enter to win an amazing mixer by going HERE.
This cookbook makes a great Christmas gift!! You can also print a coupon for $2.00 off by going HERE.
To read an excerpt from this book, then go HERE. That is the last link I am going to give you.
Let me know if you order or buy!! This is a great cookbook!! I love it! We are having a small party soon to celebrate the cookbook and using some of the recipes. I will be taking some photos and putting them here.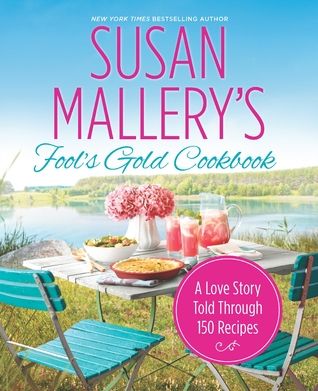 According to Goodreads, "
New York Times
bestselling author Susan Mallery invites you to taste the local cuisine of her beloved fictional town and share in a year's worth of deliciously seasonal recipes.
Fool's Gold is known as the Land of Happy Endings, but it's also the land of hearty appetites. Throughout the series, the residents of Fool's Gold have found joy, comfort and good times through food. Now two local Fool's Gold chefs will also find love through food! Join them as they flirt, fight and fall in love, one season at a time.
You'll also find favorite recipes from popular characters in the series, such as:
Heidi's Arugula, Corn and Cherry Tomato Salad with Goat Cheese.
Liz's Spaghetti for the Girls.
Denise's Summer Berry Pie.
With chapters for summer, spring, fall and winter, you can find the perfect recipe for everything from holiday get-togethers to cozy date nights, always using the freshest ingredients. And the heartwarming love story that is woven throughout is Susan Mallery at her finest.
The more than 150 recipes and dozens of gorgeous photographs in this book will inspire you to find perfection in the simple and the seasonal. And with all of Fool's Gold with you in the kitchen, your every celebration will have a happy ending!"
I hope you have a great day! I will be looking at the cookbook later to write down which ones we will be making along with the ingredients we need!