I am thinking of having something planned for you all, but I wanted to plan it out more. I wanted to take a moment today to get to the member's website of Susan Mallery's.
Here is the link: Click HERE.
You will have to join the site. You can get some information about upcoming books, games & puzzles, freebies, short stories (my favorite!), excerpts, & much much more.
What I love about Susan is she cares about her fans! She has chats with us fans! She asks us fans for names of characters or names for business.
If you are in the Georgia area & can see Susan Mallery at either of these 2 locations for Book Signings, then please go! You will not be disappointed! Here is the information:

Thursday, May 31, 2012
5-7p Book Signing
7804 Abercorn Extension, Savannah, GA 31406
Phone: 912-353-7757
Saturday, June 2, 2012
1-3p Book Signing
Fox Tales Book Shoppe
105 East Main St #138, Woodstock, GA 30188

Phone: 770-516-9989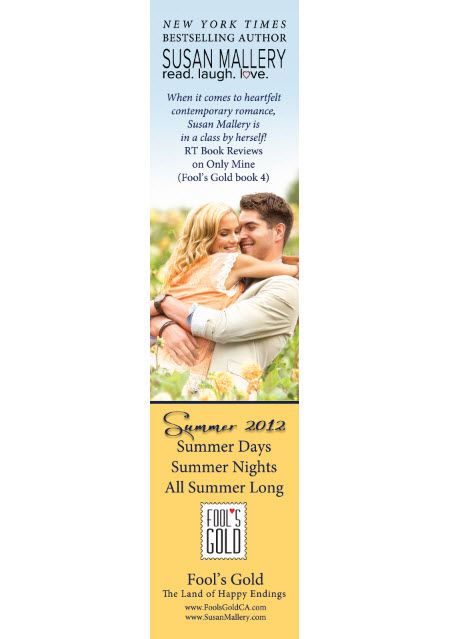 I wanted to offer any Fool's Gold fan the opportunity to get a bookmark if you have had gotten one already. I am in the process figuring out how to connect my email here so you can email me. I can not figure this out, but I did figure out the html code to put my email here. This email is connected to my cell phone. I will do a weekly mail out on Fridays. Thanks everyone!!