Two of a Kind came out end of last month, but I have been a bit sick plus with 3 kids and 2 pups time got away from me. Our older husky was diagnosed with Lymes Disease so he is on antibiotics. He gets 3 pills at once. We give it to him in peanut butter, but he is so picky about who he will take it from. He will not take it from me, but only Noah. Sometimes it takes us 20 minutes to get him to take it. We put the peanut butter/pill in something else like rice or a broken bone.

So, back to Cheering!! This was at Walmart. I love going to Walmart. Visiting with the book rep. I wish every store had a book rep like our Walmart & KMart has. She is great!! I give her some bookmarks to hand out to customers. I thought I took better photos.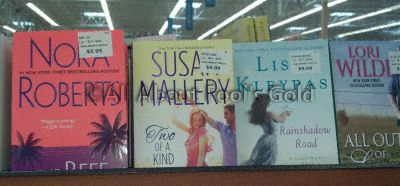 I finished Two of a Kind last night. I loved it. It is one of my favorites. Felicia is a great character, who is very smart, tells you what she is thinking. Not many of us does that. She is very honest. Felicia just wants to fit in. Gideon went through hell and back, but will he realize what is really important before it's too late?
This book is a great read! I highly recommend it. I am loving Three Little Words!
Happy Reading!
Melissa