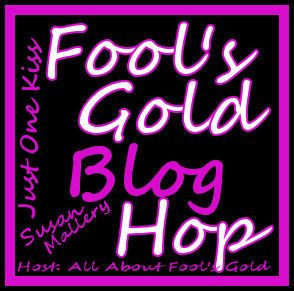 I just wanted to say thank you for coming to our Blog Hop. I hope you are enjoying reading everyone's Best Kiss Ever. I really hope you join us in our Blog Hop.
In honor of being a Fool's Gold Cheerleader, I wanted to do something wonderful to get the word out about Susan's Mallery's new book, Just One Kiss that just was released. What a better way to do it than a Blog Hop!! It is a party on the internet. We-Cheerleaders- hope you will join us, too. Get those fingers typing on your blog then come back to this
HERE
to add your link. It is that simple. Just make sure that you are blogging about our theme: Best Kiss Ever.
Off to My Best Kiss Ever.
Let's Go back a step. How I met my husband.
No, we are not high school sweethearts. No, we did not meet in high school like Patience & Justice did in Just One Kiss. We went to different high schools. I almost went to Shawn's high schools, but we moved out of the city where Shawn went when I was in after I was in 8th grade. We moved to the country. I always wondered what if we did not move. What if we moved to another house in the same school district? Would I met Shawn or one of his friends then him? Do you know that I knew one of his friends in college? Yuck, I dated him, too! (That is for another blog post)
When I was in college, I took a job at a grocery store during breaks. My best friend, Sandy, was dating, a guy name Tim (She married him 3 weeks after I married Shawn--Our daughters are 10 days apart, too!!) Well, Tim wanted to set me up with Shawn. I was dating this guy at the time so I said no. Eventually, I did say yes. I told Sandy that go ahead & set me up with Shawn. We met on a blind date. No photos, etc. Our first date was this Carnival here. When I was young, I went to it all the time. Well, we were only there 10 minutes. Yes, 10 minutes!! Just say when you are a child you see things differently!! We went back to his place & watched movies.
My second kiss with Shawn or maybe it was the third was magical. Hey, I have to think back almost 20 years here. I can still remember it like it was yesterday. It was that kind of kiss that catches your breathe. That stops you in your tracks. I knew then that this guy was something special.
I hope you join us in our Blog Hop about "Best Kiss Ever"
Melissa