A Fool's Gold Christmas by Susan Mallery is Book #9.5 in the Fool's Gold Series. I thought I would take this time to introduce the books in the
beginning of the series for those who have not read any of the books. If you have not read this series, you can start here or exactly anywhere in the series. Susan Mallery wrote this series as Stand Alone books so you do not need to read them in order.
I need to pre-order this book from either Amazon or Barnes & Noble. Anyone else going to pre-order it, too? Let me know!!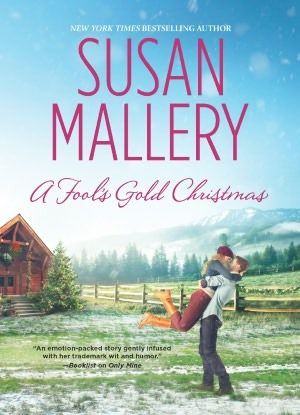 Synopsis: (Goodreads)
"New York Times" bestselling author Susan Mallery brings you a heartwarming tale for the holidays.
The unrelenting cheer in Fool's Gold, California, is bringing out the humbug in dancer Evie Stryker. She learned early on that Christmas miracles don't happen, at least not for her. And this year seems like no exception. An injury has forced her to return to the family fold, no matter that they're estranged. She won't add to the awkward scenario by being seduced by the bad-boy charms of her brother's best friend, the last man she should ever want to date. Even when she's recruited to stage Fool's Gold's winter festival, she vows to do as promised, then move forward with her life anywhere but here.
Jaded lawyer Dante Jefferson is getting used to the backwater town he now reluctantly calls home, but the pounding of little dancers' feet above his temporary office is more than any man should have to take When he confronts their gorgeous teacher, he's unprepared for the attraction that sears him down to the soul. Evie is his best friend's sister-off-limits unless he's willing to risk his heart. Dante has always believed that love is the most dangerous force in the universe, but that was before he had to reckon with the magic of a certain small town, where miracles "do" seem to happen...
Keep on Reading Fool's Gold Books!!
Melissa