Chasing Perfect by Susan Mallery is Book #1 in the Fool's Gold Series. I thought I would take this time to introduce the books in the
beginning of the series for those who have not read any of the books or for those who have read it & want to re-read it again. If you have not read this series, you can start here or anywhere in the series. Susan Mallery wrote this series as Stand Alone books so you do not have to read them in order.
I love Fool's Gold. I wish the town was real. I could really use the town people's help getting my house in order. Unpacking boxes & organizing!! Helping me when my kids are sick like now I have Noah sick & I need milk, cereal, etc.
I love the surprises that happen to Charity Jones since she arrived in Fool's Gold. I love reading a book series. You get to know more about the characters in the previous books. I always look forward to reading any new books that Susan Mallery writes for this great series.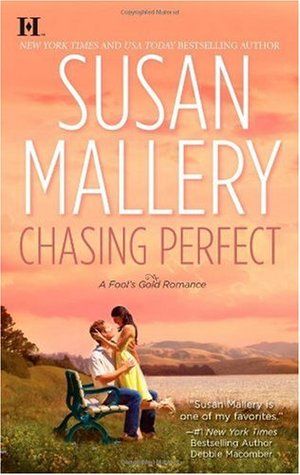 Synosis: (From Goodreads)
The first in a brand-new series. Fool's Gold, California, is a charming community in the foothills of the Sierra Nevadas. There's lots to do and plenty of people to meet, especially women. There's just one problem: the men don't seem to stick around. The situation needs to be fixed, and Charity Jones may just be the one to fix it. Original.
P.S. Something for you:
1. When was the first time Charity met Josh Golden?
2. Who is Charity related to?
3. What is her new job?
4. What is Josh Golden famous for?
"I think experienced makes me sound like an aging hooker."
―
Susan Mallery
,
Chasing Perfect
I hope you enjoy this book as much as I did.
Keep Reading Fool's Gold Books!
Melissa