Finding Perfect is Book #3 in the Fool's Gold Series! Another great book by Susan Mallery. I am not sure if I said it before or not. I want to move to Fool's Gold. Not sure if they get earthquakes or not. That would be a big thing for me. I would love to have help from the town. Being disabled, having a disabled daughter, a son with asthma, I could use some help at times. Not sure if I like the idea of everyone knowing everything.
I love this book.
Pia has to make a big decision. What will she do? If you inherited 3 frozen embroyos from your best friend, what would your decision? Would you implant them inside you? What would happen if it was something you were less expecting?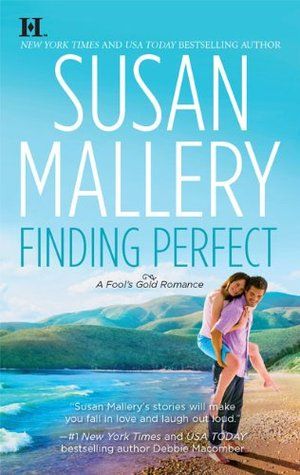 When Pia O'Brian's best friend dies, Pia expects to inherit her cherished cat. Instead, the woman leaves Pia three frozen embryos. With a disastrous track record in the romance department and the parenting skills of a hamster, Pia doesn't think she's meant for motherhood. But determined to do the right thing, Pia decides to become a single mother. Only to meet a gorgeous, sexy hunk the very same day.
A former foster-care kid now rich beyond his wildest dreams, Raoul Moreno runs a camp for needy children in Fool's Gold, California. After his last relationship, Raoul thought he was done with women and commitment. Still, he can't get sweet, sexy Pia out of his mind—and proposes a crazy plan. But can such an unconventional beginning really result in the perfect ending?
Something for You:
1.What did Pia think she was going to inherit from her best friend?
2. What did Pia's best friend die of?
3. Who does Pia meet?
4. What happens to Peter? There is a couple answers here.
5. What did Pia decide to do with the embyos?
6. What was your least favorite part of the book? Best part of the book?
"What do you mean she left me the embryos? I'm supposed to get the cat."
―
Susan Mallery
,
Finding Perfect
Keep on Reading Fool's Gold Books!!
Melissa