Summer Days is Book #7 of the Fool's Gold Series.
I thought I would take this time to introduce the books in the
series for those who have not read any of the books. If you have not read this series, you can start here or exactly anywhere in the series. Susan Mallery wrote this series as Stand Alone books so you do not need to read them in order.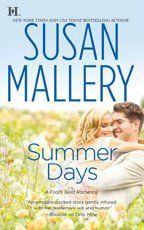 "New York Times "bestselling author Susan Mallery returns with a new Fool's Gold trilogy featuring three rugged cowboys who will find love in the unlikeliest of places.... Locked in an unexpected land dispute, Rafe Stryker is trapped in the one place he vowed never to return to-the Castle Ranch in Fool's Gold, California. He made millions facing ruthless adversaries in the boardroom, but nothing could've prepared him to go head-to-head against stubborn, beautiful Heidi Simpson. No one is more surprised than Rafe to discover that he's finding Heidi-and life as a cowboy-much more compelling than he wants to admit.
For Heidi, the Castle Ranch is the home she's always wanted. After a life on the road, the vivacious blonde has finally put down roots. She won't give that up without a fight, not even for a man whose late-night kisses make her yearn to be a little less...wholesome.
As the two turn from passionate adversaries to passionate, period, they'll discover that summer love can last a lifetime.
Something for You:
1. Why did Rafe Stryker did not want to return to Fool's Gold?
2. How did Heidi meet Rafe?
3. Did you feel bad for Heidi or Rafe about the situation they were in?
4. Do you believe that what Glen did was wrong? Why?
5. How does Heidi know Rita?
6. Are you on
Team Heidi or Team Rafe? Why?
7. Did you love the ending?
Keep on Reading Fool's Gold Books!