Today was the the book release for Summer Nights. I was so excited to get out there & "Cheer." Last time for Summer Days I had Ethan with me, but this time I had Noah with me! Our first stop was an appointment for Noah!
Noah had my cell phone because I wanted my ipad to read (come on, can you guess why I wanted my ipad? what did I want to read?)
Yes, you guessed right! Summer Nights! Noah normally has my ipad to play games, but since I was reading Summer Nights, he had my cell phone & he took this photo of me.
I took this photo of him! Noah is a ham at times!
At Book a Million, I spoke with the Manager & I could only put the bookmarks, tattoos, & business cards into the books. Not only did I put the bookmarks, etc into Summer Nights, but I also did Summer Days, Only His, Only Mine, & Only Yours.
Noah wanted to go to McDonald's. It was a way to keep him happy while we were out "Cheering" & so we went to McDonald's. I was so disappointed because I love Wild Berry Smoothies & they replaced it with Blueberry Pomegranate. I do not like blueberries. I do not like bananas in my Smoothies (either does Noah). Noah & I do not like Pineapple-Mango Smoothies. We found another location to get our Smoothies if we do not want to make them.
I love going to Walmart because of the book rep, Linda. She had 32 boxes to go through. She had so many books on the shelves to put away, but she always has the ones I need put where they go! Thank you Linda! We did not get to Walmart until 1:30p. I have learned not to go close to 10a because she is overwhelmed with all of her boxes & I would have to go back. I only noticed these Summer Nights.
I am glad I had Noah with me because he saw all of these books! Good eye, Noah!!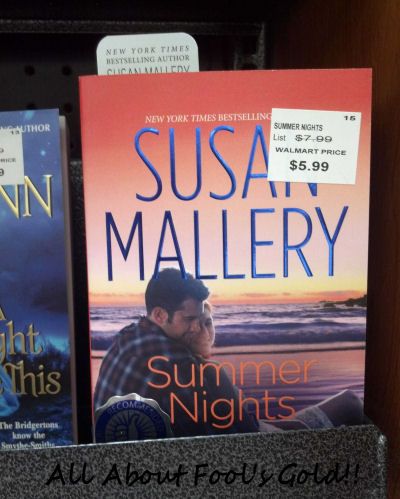 Across the aisle from Summer Nights, I saw Summer Days!!
Target did not have any of Summer Nights so I need to go back there. There was only 4 Summer Days left from when I did them at the end of May.
At Walgreens, I spoke with a Manager & Noah & I got to work. I only saw 2 books, but once again, Noah saw the other 2 books to the left! Good thing I had him with me!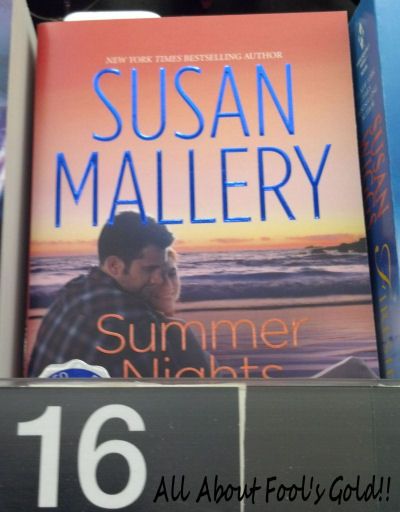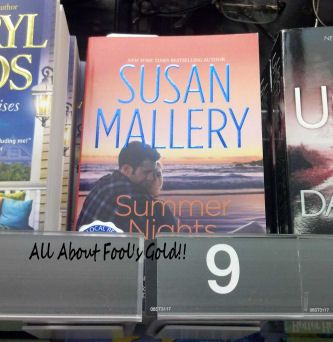 Unfortunately Sam's Club did not have any Summer Nights in. There was no boxes laying around either. I do not think they got there shipment in. The guy I spoke to last time when Summer Days was release was not there. I went up to the Customer Service desk & spoke with a Manager. I was only allowed to put the bookmark in. I am not going to put the reason on my blog. I will go back to Sam's Club on Thursday to check to see if they received Summer Nights. I did speak with a nice sales clerk & told her who I was, told her about the series, & about the one being out today, & about Summer Days. She told me she loves to read. She wants to get Summer Days & Summer Nights, but is disappointed that Summer Nights was not in today. She will keep looking until she gets it! My husband met me at Sam's so we could swap kids! Noah for Ashleigh. Noah wanted to go home!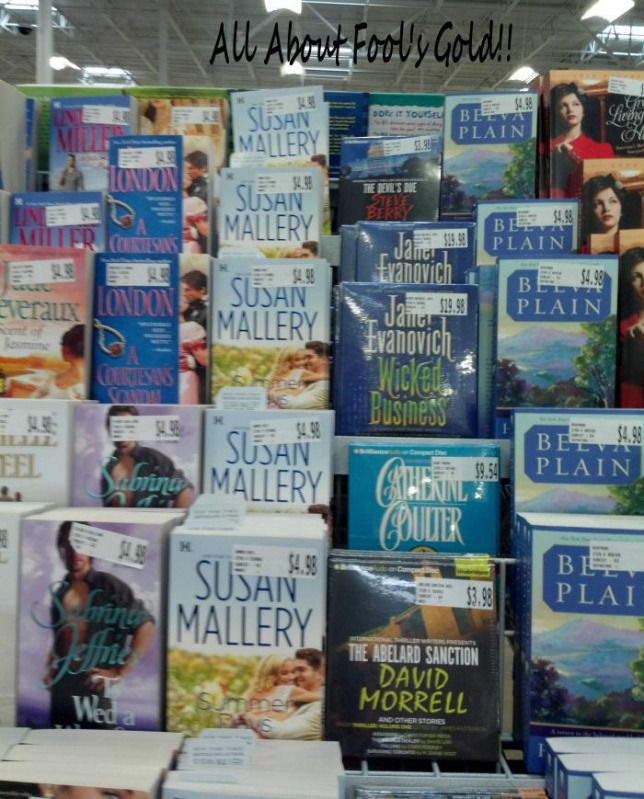 So, off I went with Ashleigh! I went to get my allergy shots. Then, Ashleigh had her 12 year check up. At the pediatrician's office, I, of course, "cheered"!! The nurse, who took us back to the room, weighed Ashleigh. I was guessing Ashleigh's weight. I was off by 10 lbs (I was thinking of Noah's weight). I said I lost 20 lbs. The nurse asked me how, & are you stress (she knows about Ashleigh's neurological disease).
Me- "No, that I am a Fool's Gold Cheerleader."
Nurse- "What does that mean?"
Me- (Showing her the bookmark)"Susan Mallery does a Contest on her Member's Only website. She picks ladies to go out to where her books are. It is a way to advertise & a way for her fans to talk about her fans. I applied for this contest & I won! Fool's Gold is my favorite series. Summer Days just came out at the end of May & I read it. I loved it. Summer Nights came out today & I am reading it now. All Summer Long comes out on July 31st.
Nurse- "I want to read them."
Me- "I have bookmarks for the rest of the office girls, too. Walmart has both Summer Days & Summer Nights."
Nurse- "Thanks. I will have to get them the next time I am there. The other ladies here are readers, too!!" (she also is getting the next one, too!!)
I do not remember the others I spoke to in the office as in names, but they are getting the books, too!! I am getting tired right now. I have what books they are getting & the numbers written down (it is downstairs in my bag & I am upstairs).
KMart did not have any Summer Nights so I need to go back to them. I put bookmarks, etc inside Chasing Perfect, Finding Perfect, & Almost Perfect, & Only His. I am really thinking of having a giveaway to win the first book (Chasing Perfect) of the Fool's Gold Series! I want to someone the opportunity to start reading this fabulous series & fall in love with it! Tell me what you think! I have to go back to KMart as it is!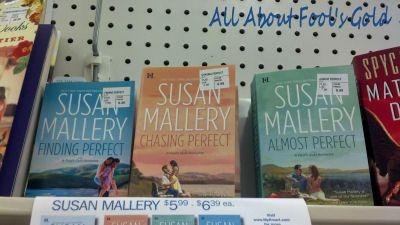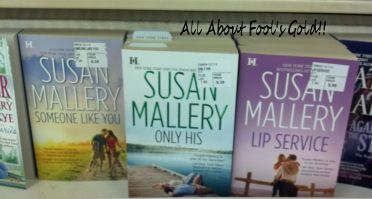 With day 1 done, I feel pretty good. My legs have started to hurt & so is my back. I have taken my meds! I am going to do a quick recap just for me. I need to go back to Target & KMart on Thursday. I have to get to Barnes & Noble sometime soon. I am hoping Friday, but I need to check to see what Friday's schedule holds. I know that our Library movies are due back then, but I am not sure what else. I know on Thursday the kids (older 2) have their Dentist appointment. Ashleigh has camp tomorrow.
I hope you all went out & brought a copy of Summer Nights today! Let me know if you did! I can get points! I am enjoying this so much.
If you are looking for a Reading Challenge, check out the one on We Love Susan Mallery's Group Click HERE. I am doing it! It will be a lot of fun. I will be posting my soon! Come on, join us in it!
Keep on Reading Fool's Gold!