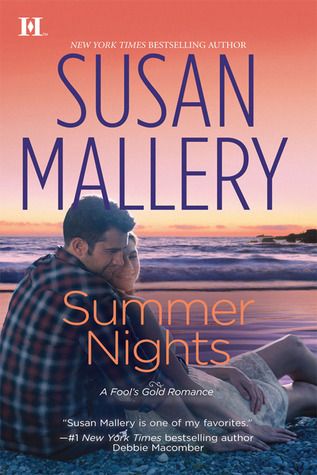 2 weeks & 2 days until Summer Nights by Susan Mallery comes out!! I can not wait. Anyone else with me?
Here is what Summer Nights is about:
Horse whisperer Shane Stryker is done with passion. This time around, he's determined to meet someone who will be content with the quiet life of a rancher's wife. And the fiery, pint-size redhead who dazzles him at the local bar definitely does not fit the bill. Small-town librarian Annabelle Weiss has always seen herself as more of a sweetheart than a siren, so she can't understand why Shane keeps pushing her away. Shane has formed the totally wrong impression of her but only he can help her with a special event for the next Fool's Gold festival. And maybe while he's at it, she can convince him to teach her a few things about kissing on hot summer nights, too-some lessons, a girl shouldn't learn from reading a book! (
From Goodreads
)
Who has pre-ordered Summer Nights? Who is going to pre-order Summer Nights?
I have already pre-ordered Summer Nights for my ipad using the Kindle app. I can not want. This is my first time ever pre-order anything!
If you want to pre-order it:
Summer Nights
(June 26): Amazon
Here
/ Barnes & Noble
Here
.
In honor of Summer Nights coming out soon & I love the cover, have you been to the beach? What is your favorite beach memory?
My favorite beach memory is in August 2009 in New Jersey.
We went to New Jersey to visit my brother. It was our first vacation with Ethan. Ethan was almost 9 months old then. So little. It is hard to believe Ethan is now 3 years old & so talkative! He never is quiet! Noah was 5 & Ashleigh was 9.
I hope you love the photos!
Keep on Reading Fool's Gold especially Summer Days & Summer Nights!