I was going to take today off since my daughter, Ashleigh's, 12th birthday. I had to go out to get flowers from my sister for Ashleigh. I also had no ice cream. Thanks Krisandra! You will understand in a second!
I remembered before I went into the grocery store that we needed birthday plates. I have them for Ashleigh's birthday party, but not for just us. There is this little store a few doors down. I noticed this young lady reading a book sitting on a bench using a piece of paper for a bookmark! I thought "I don't have time to cheer, but if she is there when I come back to the grocery store, I will stop." Yes, I did stop! I told her who I was & that I have bookmarks for her. I told her about the books! I told her Summer Days is out now & I loved it! Summer Nights & All Summer Long is coming out this summer. I told her about the series & the books! I know she will be a fan, too!
I went into the grocery store. I wonder if they got any Summer Days in. They did! I went to the front desk, told them who I was, about the books, & she told me I had to talk with a manager. I spoke with him & explained who I was, why I was there, & he told me that only the bookmarks could go into the books! I was happy! I told the office clerk & the manager I think I am the first in our area for this, but I will be back when the next 2 books comes out!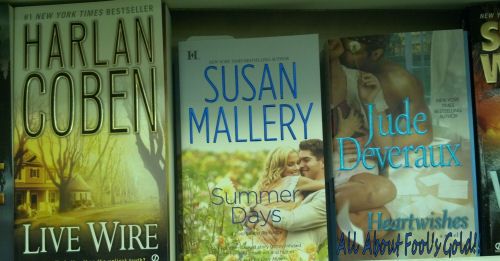 So, if my sister did not send me for flowers (their fresh cut did not look good), I would not been at this store. So thanks sis! I picked out hanging flowers!
Ashleigh loves them!
We got her the necklace she is wearing!!
It has her name, dolphin, & beads.
Happy Birthday Ashleigh!
Hard to believe she is 12!
Keep on Reading Fool's Gold! In honor of Ashleigh's birthday, what is your favorite Fool's Gold book? I love them all. I can not pick just one! Ashleigh loves to read! I am hoping one day Ashleigh & I can read this series together one day.
Earlier in the day I went to see a friend & I told Sandy & Mary, her daughter all about Fool's Gold, the books, & I had to tell her daughter about the cowboys! She is 12 in 10 days. Our daughters are 10 days apart! I gave her my Cowboy Calendar for her birthday!! I made her day! As Mary walked away, we heard "he's cute" many times.

Melissa