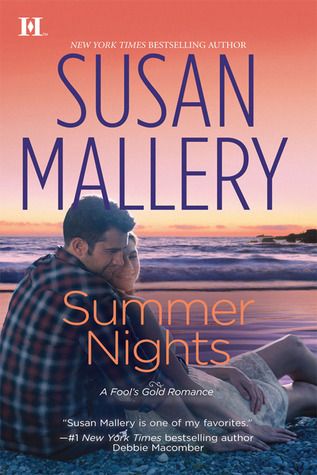 I am really looking forward to Summer Nights by Susan Mallery coming out on June 26th. Have you pre-ordered it? Are you? Are you going to get it the day it comes out? I pre-ordered it. I can not wait. We met Shane in Summer Days.
Here is what Summer Nights is about:
Horse whisperer Shane Stryker is done with passion. This time around, he's determined to meet someone who will be content with the quiet life of a rancher's wife. And the fiery, pint-size redhead who dazzles him at the local bar definitely does not fit the bill. Small-town librarian Annabelle Weiss has always seen herself as more of a sweetheart than a siren, so she can't understand why Shane keeps pushing her away. Shane has formed the totally wrong impression of her but only he can help her with a special event for the next Fool's Gold festival. And maybe while he's at it, she can convince him to teach her a few things about kissing on hot summer nights, too-some lessons, a girl shouldn't learn from reading a book! (
From Goodreads
)
In honor of Summer Nights coming out & of Annabelle (the Librarian) How do you like or love to read books? In bed? Curled in your favorite chair?
I normally wait until the kids are in their beds so I can read in quiet! I love to read when it is quiet. I think for this book I will read on our side deck. It over looks the city. I think it would be the perfect spot to read Summer Nights. What do you think?
Next month I will share photos of my older 2 horseback riding in honor of Summer Nights & Shane Stryker! Ashleigh & Noah are taking a horseback riding camp. Last year was the first time Noah was ever on a horse & he loved it. Ashleigh's camp is July 25th & Noah's is July 18th!
Keep on Reading Fool's Gold Book!!