All Summer Long comes out tomorrow! Who is excited? I am!! I can not wait to read this book! I am not sure when I can, but I am going to make the time! I will explain in a second why. I can not believe this is the last week for us cheerleaders! This time has flown by. I have so much to do this week.
I need to go to these stores this week:
-Target
-Walmart
-Sam's
-KMart
-Walgreens
-Books a Million
The kids & I are leaving to go to a zoo in the state next to us on Friday. We are going with a friend & her 2 kids. I have not traveled on my own since I got hurt. It is a 4 hour trip. We are staying in a hotel for 2 nights so it is not hard on me driving it all on the same night. I have chronic back pain. I will be sharing some photos when we get back on Sunday!! I can not wait to get there. Our hotel has a pool! Who do you think will be reading All Summer Long pool side? Me!! My husband has to stay home with the dogs & work!! It is a girls with the kids kind of weekend!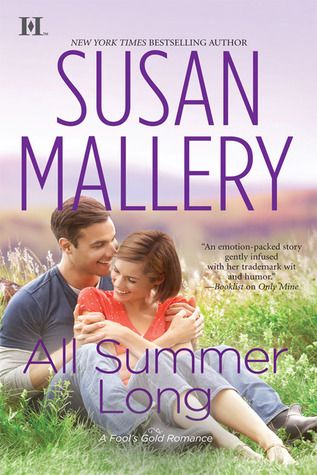 Synopsis
:(From Goodreads)
Can a summer fling turn into love that lasts a lifetime? Former underwear model turned entrepreneur Clay Stryker has loved, tragically lost and vowed that he'll never risk his heart again. After making his fortune, the youngest of the rugged Stryker brothers returns to Fool's Gold, California, to put down roots on a ranch of his own. But he's frustrated to discover that even in his hometown, people see him only for his world-famous...assets.
Firefighter Chantal (Charlie) Dixon grew up an ugly duckling beside her delicately beautiful mother, a feeling reinforced long ago by a man who left soul-deep scars. Now she has good friends, a solid job and the itch to start a family-yet she can't move toward the future while she's haunted by painful memories.
Clay finds an unexpected ally, and unexpected temptation, in tomboyish Charlie, the only person who sees beyond his dazzling good looks to the real man beneath. But when Charlie comes to him with an indecent proposal, will they be able to overcome their pasts and find a love that lasts beyond one incredible summer?
In honor of All Summer Long coming out tomorrow & I love the cover, in honor of Charlie wanting a family, I will be sharing my favorite photos of my kids.
Ethan being cute!!
These 2 are old photos I had in my Photobucket!
This is Noah!
This is Noah as a baby!
Noah & Ethan looks so much a like! We have to look at what is in the photos to be able to tell which one of the boys it is. I know the one above is Noah because that is our old sectional we don't have anymore & Noah's hair went darker than Ethan's hair. Ethan's hair is still blond, but when it is long, it is a little dark. Once we get it cut, it is blond under it.
Back to All Summer Long by Susan Mallery, here are all her links:
Susan Mallery's Website
Susan Mallery's Facebook Page
Susan Mallery's
Twitter
Susan Mallery's Goodreads Page
Susan Mallery's Pinterest Fool's Gold Page
Susan Mallery's Pinterest
Fool's Gold Summer Kisses
We love Susan Mallery Group on Goodreads
These 3 Fool's Gold Books are coming out:
Summer Days (May 29): Amazon Here/ Barnes & Noble Here.
Summer Nights (June 26): Amazon Here/ Barnes & Noble Here .
All Summer Long (July 31): Amazon Here/ Barnes & Noble Here.
Keep on Reading Fool's Gold Books!!
Melissa